[01.] Design Matters With Debbie Millman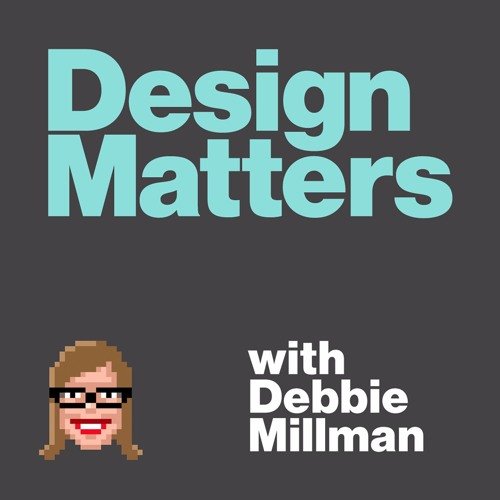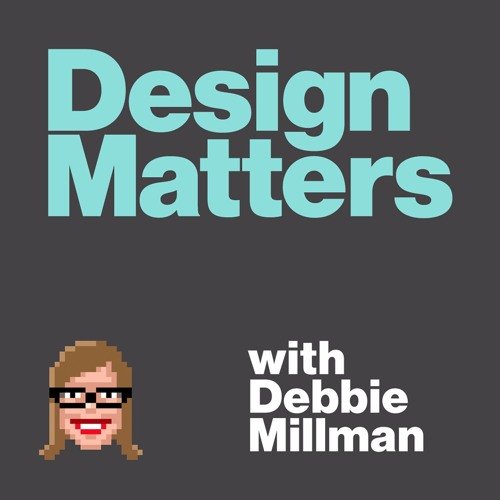 Design Matters with Debbie Millman is a thought-provoking internet podcast, which profiles industry-leading graphic designers, change agents, artists, writers and educators.
In 2005, Debbie Millman started a little radio show called Design Matters. She often says that Design Matters began with an idea and a telephone line. After an offer from the Voice America Business Network to create an online radio show in exchange for a fee — yes, Debbie Millman had to pay them — she decided that interviewing designers who she revered would be an inventive way to ask her heroes everything she wanted to know about them. Debbie Millman started broadcasting Design Matters live from a telephone modem in her office at Sterling Brands in the Empire State Building. After the first dozen episodes, she began to distribute the episodes free on iTunes, making it the first ever design podcast to be distributed in this manner. Debbie Millman realized the opportunity to share the brilliance of her guests with an audience she never expected was the gift of a lifetime, but as the show grew in popularity, she recognized that she needed to upgrade both the sound quality and the distribution. After 100 episodes on Voice America, Debbie Millman was invited to publish Design Matters on Design Observer by co-founder Bill Drenttel. Design Matters is now the anchor show on Design Observer's media channel, and the show is produced at the specially built podcast studio located at her Masters in Branding program at the School of Visual Arts in New York City. Debbie Millman has done nearly 200 episodes to date. In 2011, the show was awarded the People's Choice Cooper Hewitt National Design Award. In 2012, at a celebratory luncheon at the White House, she was congratulated by the one and only First Lady of the United States, Michelle Obama.
Design Matters With Debbie Millman : on Soundcloud – on iTunes.
---
[02.] The Futur With Chris Do
A podcast about the Business of Design, Creative Entrepreneurship hosted by Emmy winning director Chris Do.
The Futur is an education platform where creative professionals can learn business principles. The Futur define itself as the future of business education for the creative entrepreneur. Their mission is to empower one million creative entrepreneurs to establish successful, sustainable and fulfilling businesses. The Futur is made up of a group of hand-picked, highly-talented creatives: The Futurists. They are all driven by a single goal: crafting content that will help you succeed. The one thing that they love more than creating is talking to you! Inspiration for their content, social posts, free resources and paid kits and courses is 100% drawn from conversations from their audience. Founded by Chris Do, The Futur continues on in the legacy of The Skool.
The Futur With Chris Do : on Stitcher – on iTunes.
---
[03.] 99% Invisible
99% Invisible is about all the thought that goes into the things we don't think about — the unnoticed architecture and design that shape our world. With over 150 million downloads, 99% Invisible is one of the most popular podcasts on iTunes.
99% Invisible started as a project of KALW public radio and the American Institute of Architects in San Francisco. Originally, host and creator Roman Mars produced 99% Invisible from his bedroom. Roman Mars is also a founding member of the podcast collective, Radiotopia. While Roman Mars has since upgraded from his bedroom digs to a studio behind his house and an office shared with 99pi's wonderful staff (in beautiful downtown Oakland, California), most of the equipment and production process remains the same. 99% Invisible is a completely independent production. Funding comes directly from their phenomenally dedicated listeners, including their record-breaking Kickstarter campaign, and from podcast underwriters.
99% Invisible : on iTunes.
---
[04.] The Creative Pep Talk
The Creative Pep Talk Podcast is designed to help you make a good living, making great art. Andy J. Miller is passionate about helping creative's strike the perfect balance between art and business.
Are you a creative entrepreneur? Freelancer? Aspiring creative pro? If so, this podcast was made for you! Through ridiculous analogies, personal stories and artist interviews, Andy hopes to help you break free from confusion and make a plan for your creative career success! Creative Pep Talk was created by illustrator Andy J. Miller.
Andy J. Miller is an American full time freelance illustrator with a background in graphic design, currently living and working in Columbus, OH. Andy J. Miller was born in Indiana, went to middle school in Western New York, to high school in Indiana, and to the University of Huddersfield in the United Kingdom. He teaches a self promotion for illustrators class to senior level students at the Columbus College of Art & Design. He is most known for his side projects and books; The Indie Rock Coloring Book, the collaborative Color Me _____ exhibit with Andrew Neyer, the daily drawing project NOD and his Creative Pep Talk podcast.
Creative Pep Talk will put the pep in your step that you need to keep going and find your creative career breakthrough. Through talks filled with bizarre analogies and Fraggle Rock references, and interviews with top creative professionals, Dr. Pizza is ready to PEP YOU UP!
Creative Pep Talk : on Soundcloud.
---
[05.] Adventures In Design with Mark Brickey
Adventures In Design is like sports radio, but for creative people.
Adventures In Design with Mark Brickey is a daily talk show that explores people who have designed happiness into their creative professional lives. Mark Brickey and friends keep you entertained, educated and inspired while you create a better designed world for yourself. Adventures In Design explore the reality of trying to live your creative dreams. Sometimes educational, sometimes off topic but always entertaining! New Episodes Monday-Friday!
Adventures In Design with Mark Brickey : on Soundcloud – on iTunes.
---